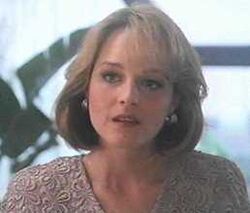 Portrayed by Helen Hunt in Trancers I-III.
When we first see Lena (or Leena) in December of 1985, she has just finished a one night stand with the journalist Philip Deth, whom Jack ends up trapped in for the rest of his days. She helps Jack find Chris Lavery. And after escaping from Martin Whistler, they stay in China Town. With Lena's help, Jack manages to save Hap Ashby and 'singe' his long-time enemy, but has to remain with Lena in Old California when the vial he requires to return to Angel City is broken.
Jack and Lena were happily married into the next decade and living with Ashby in his estate, until they came under threat from Whistler's brother Dr. E.D. Wardo in 1991. As if that wasn't bad enough, Jack's former first wife Alice Stillwell was brought back from just before her death in order help Jack stop Wardo and persuade Jack to return to the future. At first, Lena and Alice didn't get along, but they eventually put their differances aside in order to stop Wardo.
In the third film, Lena divorced Jack after he mysteriously went AWOL. Over a decade later, Lena provided vital information that helped Jack learn of a government sponsored trancer program, and Lena also happened to be hiding trancer recruit escapee R.J. from the same operatives who signed her up.
When Jack found Lena in 2005, he discovered Lena had another man in her life, and she now had a child. Although Jack wanted to explain himself, Lena knew their time together was long over. So she sends Jack on his way. Jack doesn't find out the identity of Lena's child until he returns to Los Angeles in the sixth film.