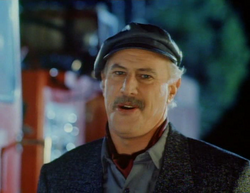 Portrayed by Biff Manard (1943-2014) in the first two iterations of the series.
Hap was a celebrated baseball pitcher in the 1960s. But after his career died down, he found himself repeatedly drunk and living out in the streets without any money. When Whistler planned his assassination, Jack Deth was able to locate him on Skid Row in the year 1985, and save the future of Angel City. Ashby later repays Jack by distracting Martin Whistler long enough for Jack to 'singe' him.
Ashby returned in Trancers II, now sobered up and very rich. However, he almost went back to being a full-time drunk when more trancers showed up to kill him. He collects firetrucks as a hobby, and he and McNulty help put out a fire at the GreenWorld barn.
During Trancers III, we find out Hap has become the chairman of a baseball enterprise called the San Francisco Rockets.